Until Nov 3
The Haunted Walk's Halloween Season
The Haunted Walk offers dark twists on classic tours and showcases special events, some of which are available in both English and French! Looking for a beautiful autumn walk while hearing a variety of favourite local ghost stories?
Nov 3
Ottawa Storytellers Children's Festival
A FREE day of stories, told live, for children ages 4 to 12. The 2018 annual bilingual Festival will take place on Saturday, November 3 at the Nepean Centrepointe Library. From traditional tales to fabulous fantasies, this annual event is a day of storytelling magic that kids won't want to miss!
Yaki's Rockin' & Hoppin' Sing-along
For over 10 years, local children's entertainer Yaki has been bringing smiles to young Ottawan faces at performances in over 180 schools across the region and at the annual CHEO barbecue. Last year he filled the studio with musical treats for a spooky spectacular, this year he is back with a show that promises to have kids dancing and singing. We cannot take responsibility for the uncontrollable hoppin' and boppin' that may come over you.
Nov 3-4
Christmas in the Valley Artisan Show (Almonte)
Experience old-fashioned friendly Christmas shopping in a relaxed and festive atmosphere with over 25 selected vendors with plenty of gift ideas.
Nov 4
Authentic, delicious Russian cuisine, live entertainment, beautiful art for sale, souvenirs, fun for the whole family.
Learn the proper techniques behind Broadway-style singing. Discover how to perform various musical styles and how to command the stage and be heard.
Nov 10
Sing Song Party Time with Derek McKinley
Children's entertainer, Derek McKinley, will play us some joyful music to inspire children and adults alike. His songs encourage children to be creative, to live a healthy life and to appreciate the environment. Blackburn Hamlet Library, 199 Glen Park Drive, 10:30 AM – 11:15am.
Nov 13
Arts & crafts, singing, dancing, stories, and more! Toddler Tuesdays are the perfect morning activity for caregivers and children, ages 18 months to 4 years! Join instructor Jesse Kahat in the sunbathed City Room for learning, exploration, and fun!
Nov 16
A wonderfully eccentric inventor, Caractacus Potts, sets about restoring an old scrap heap race car much beloved by his two children. To celebrate the finished car, the trio meet with Truly Scrumptious and head to the seaside for a picnic and discover that the car, Chitty, has some surprising abilities. But adventure and misadventure ensue when Baron Bomburst of Vulgaria desires the car for himself…Based on the much-loved 1968 film of the same name.
Nov 16-18
Amazing juried show featuring over 50 local vendors. A great start to the holiday gift season. Free admission.
The Missing Frame Series, is a pop up that promotes moms and babies to have their portrait taken. For Ottawa dates click here
Nov 16-Jan 6
A dazzling 2-kilometere drive-through holiday lights show. Experience from the comfort of your own car as you wind through the sparkling path.
Nov 17
Artisans and makers come together with antiques dealers and independent boutiques to create an amazing market that is fun, fabulous and free!
Every year since 1969, the Ottawa Professional Fire Fighters' Association has been organizing the Help Santa Toy Parade and collecting toys along the parade route for distribution to the less fortunate children in Ottawa-Carleton.
Great gift ideas for the whole family with vendors of baked goods and hand-made gifts.
Santa is coming to town. Food and money will be collected by volunteer fire fighters. Parade begins at Terry Fox and Castlefrank and proceeds to the Hazeldean Mall, 10 McKitrick Dr.
Nov 17-18
Ottawa Comiccon: Holiday Edition
A two-day geeky shopping celebration featuring local crafters, artists, retailers and vendors with original art, comics, toys, collectibles, statues, and much more!
Nov 17-Dec 7
Christmas Craft Market (Manotick)
An annual event where hand-made crafts and food vendors fill Watson's Mill with holiday cheer. This event takes place on weekends only from November 17th to December 2nd. On the last day of the Christmas craft market, December 2nd, join Watsons Mill in a Carols at Sunset from 5:00 pm to 6:00 pm.
Nov 18
Marjolaine's Adventure Around the World
Marjocotton, a very lonely double bass, discovers an oddly-shaped ocarina (ancient flute) which suddenly transports her on a magical adventure around the world. As she travels from one continent to another, she discovers some interesting musical friends who help her along the way. Featuring two dynamic string players from Canada's National Arts Centre Orchestra who share the same first name, you'll hear brilliant works from far-off lands including Austria, Russia, and China that will have you clapping and dancing in your seat!
Master Illusionist Chris Pilsworth
Prepare yourself for a flight of fancy guaranteed to make your spirit soar! Witty, fast and funny, award-winning Magician Chris Pilsworth captivates his audience with amazing magic and incredible illusions.
Learn effective stage presence. You can make 'em laugh and make 'em cry. Teachings include: acting skills and enunciation, projection, postures, and character development.
SANTA has let us know that he will be paying a special pre-Christmas visit to Barrhaven on Sunday,  Nov, 18 with a stop for breakfast at St. Mother Theresa High School followed by the parade starting at 5:30 PM on Strandherd Drive?! Attendees are asked that everyone bring a non-perishable food donation to be collected at the breakfast and the parade! This helps to keep the Barrhaven Food Cupboard's shelves stocked through the winter months. Last year, over 3000lbs of food and $3000 in cash were collected and this year we are challenging the community of Barrhaven to surpass that!
Nov 19
This brand new touring production of A Charlie Brown Christmas Live on Stage by Charles M. Schulz features everyone's favorite Peanuts gang – Linus, Lucy, Snoopy, Sally, and more, all led by the lovable Charlie Brown – as they discover the true meaning of Christmas.
Nov 24
Downtown Carleton Place Santa Claus Parade
This year's theme is  A Christmas Carol, Christmas Parade! Come join us.
Here comes Santa Claus! Come out and enjoy the fun!
This Orleans-based parade is always a local favourite.
Nov 29-Dec 2
Casselman comes alive with plenty of activities for everyone to enjoy, from the Santa Run to the Christmas Market.
Canadian Museum of History Christmas Market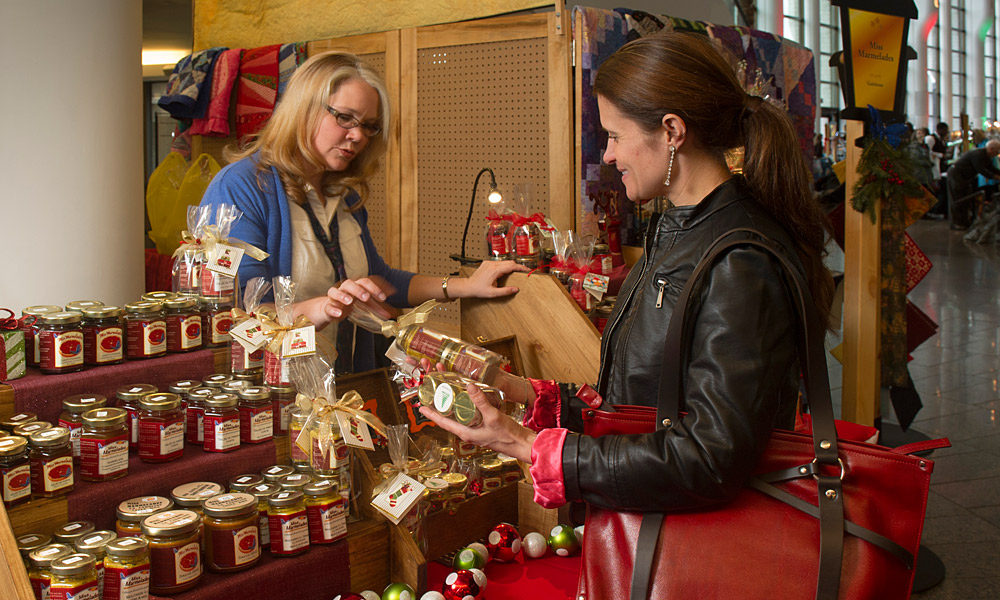 More than 80 food producers and artisans from the region will be on hand in the majestic Grand Hall to present their delicious products and unique handmade crafts.